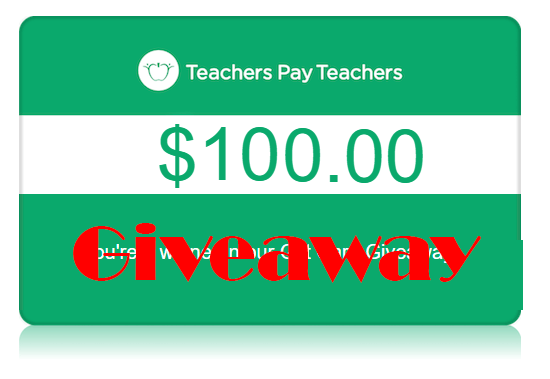 I'm happy to be participating in a Teachers Pay Teachers Gift Card Giveaway. You can enter through the Rafflecopter widget at the bottom of this post.
I'm particularly excited to be doing it during Teacher's Appreciation Week! Our son is collecting flowers from our garden to give to his teachers tomorrow, we're participating in the big TpT sale on the 8th and 9th (use code:THANKYOU18 at our Teachers Pay Teachers Store), we've set up a sale on our website shop (same code: THANKYOU18 to buy any paperback or ebook in our shop) and we're also doing this gift card giveaway. Who doesn't want to win a Teachers Pay Teachers Gift Card for $100?
I really enjoy buying and selling on Teachers Pay Teachers. First, it's a supportive community of teachers and teach-authors. Second, the products tend to be high-quality. Half the handouts and worksheets my son brings home from school come from TpT.  And while it can be hard to get your name out when you specialize in materials for older students or focus on ESL, I'm hoping this giveaway will help spread the word. If you like our products and want to help out, spread the word of this giveaway on your social media too!
Thanks.
Enter through the Rafflecopter at the bottom of this post and good luck!
---
$100 Teachers Pay Teachers Gift Card Giveaway Details:

  
Prize:
 $100 Teachers Pay Teachers Gift Card
Giveaway Organized by:
Kelly Malloy
 (An Apple for the Teacher)
C
o-hosts:
   An Apple for the Teacher,  That Library Girl, Planet Happy Smiles, Teacher Gameroom, Kim Heuer, The Chocolate Teacher,  MM Bilingual, KB3Teach, Alphabet Publishing Books, Chocolate 4 Teachers, The Froggy Factory, Leah Popinski, TheBeezyTeacher, Kamp Kindergarten, Walk with Me a Second, Bailey's Corner, It's Kinder Time, A Plus Kids, The Best Days by Julie Santello, Digging Deep to Soar Beyond the Text, Sandra Naufal, Paula's Preschool and Kindergarten, It Happened in 3rd, Teaching Superkids, Star Kids, Jackie Crews,
Rules: Use the Rafflecopter to enter.  Giveaway ends 

5/13/18

 and is open worldwide.
Are you a Teacher Blogger or Teachers pay Teachers seller who wants to participate in giveaways like these to grow your store and social media?  
Click here
 to find out how you can join our totally awesome group of bloggers! 
Enter the Giveaway: