Drama in Language Teaching is a broad area that includes performative techniques to improve teaching style, theater-style games and activities in the classroom, and using scripts or plays to teach communicative strategies and other skills. Our series,  Integrated Skills through Drama, encompasses all of those areas.
Integrated Skills through Drama is a collection of plays written specifically for English learners. Each course book contains a complete curriculum built around an original one-act play. Students will work with readings on the theme of the play, writing and discussion activities, pre-production skills practice, and post production lesson plan options, and assessments so teachers can adapt the material to fit any class size or schedule.
Throughout this process, they will practice many practical and useful skills, such as:
Pronunciation Practice
Pragmatics Practice
Production Skills: Learning a part and staging plays for students
Attentive Listening
Creative Writing
Reading and Analysis
Debate and Discussion
---
Modules in the Integrated Skills through Drama Series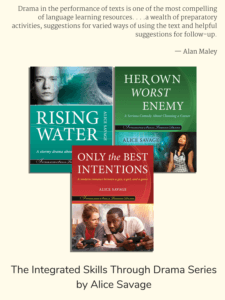 Her Own Worst Enemy
A serious comedy about choosing a careerAida is in her last year of high school. She has good grades and she is planning to go to college. She wants to pursue a career in science and is thinking about a medical field. However, there is a catch. Aida is also good at acting. Her performance in a school play has caught the attention of the theatre director at a famous performing arts college. When he invites her to audition for a spot at the school, Aida's friends and relatives are excited about the opportunity. Everyone has advice for her, but Aida must make her own decision about her future.
Only the Best Intentions
>A modern romance between a guy, a girl, and a game.
Life's ups and downs do not slow down the busy Curry family whose members are juggling jobs, family, school, sports, and wedding plans. But when 20-year-old Gigi announces that she has broken off her engagement to a lonely computer gamer, everything comes to a stop. Eve wants to help Gigi and Oscar, but in a modern romance, the rules the game are always changing.
Rising Water
A Stormy Drama about Being Out of Control
Ajax has a hard time fitting into a world of school and books. He wants to do the right thing, but his inability to sit still and pay attention keeps getting him in trouble. After a trip downtown for a job interview turns into a battle against the forces of nature, Ajax has an opportunity to discover who he really is in society.
---
Integrated Skills Through Drama Podcast
Performances of the plays by professional actors and drama students.  These recordings provide one model of how to perform the roles which students can use to shape their own acting choices, whether they chose to imitate or deviate from the actors in the audio. Teachers can play the audio so students can hear the whole play or ask students to record their own performances and compare to this. 
There are two ways to listen:
Free as a podcast scene-by-scene on Soundcloud, Spotify, iTunes or wherever you listen to podcasts. Updates weekly.
Full audio recordings, uninterrupted for sale:
Sign up for our mailing list and be the first to know when new plays come out. Plus more resources, coupons, and chances to get involved.
---
Resources for Teacher