Publishing a book is expensive and complicated. I'm always looking for tools and software that make the self-publishing process easier and fit within a budget. I had heard the buzz about Atticus during their pre-launch and even used it to put out a simple ebook quickly.
However, I wasn't sure how it would do with print books and more complicated formatting such as images, lists, tables, or layout issues such as running headers and page numbers. Could I customize the front matter and back matter the way I wanted? Would it give me control over margins, font size, paragraph spacing, and so on?
When the TESOL 2023 Conference rolled around, I thought it would be fun to turn some of my graded reader ebooks into print books and give Atticus a test drive at the same time! Atticus is $147 and it's browser-based so you can use it on Windows, Mac, or even Chromebook or Linux, making it a tool well worth looking at!
Getting Started
When you open up Atticus, you can import a file from Word or start from scratch. You can import a Word docs or rtf file. Theoretically, you can upload an epub or mobi file, but it's not recommended and I couldn't get it to work, honestly.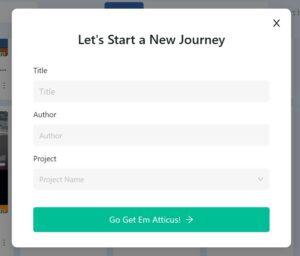 In either case, you'll be asked to name your book, add an author name (I really like that it remembers your author name so it's easy to add multiple books by different authors), and a project name which I use like a book series.
Once you do that, it'll open your project up. If it's a new book, you'll start on Chapter one, ready to type your story. However, before doing that, I recommend quickly entering in the rest of your book details. Atticus will use this information to generate a title page and also an image for your book for the homepage. Note that while you can upload your cover here, Atticus will not add the cover to your file AND any ebook distribution program will ask you to add a separate cover file.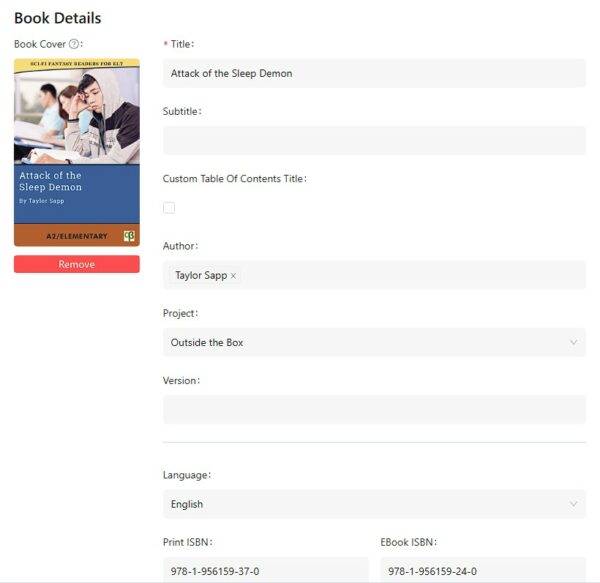 More than a book design tool
The first thing to note about Atticus is that it aspires to be more than just a book design tool. Traditionally, the book publishing process works like this: You write your manuscript in Word or Google Docs or what have you, and then import it into a book design program such as Adobe InDesign or Affinity Publisher. And you can take that route with Atticus.
However, Atticus provides a pretty robust word processing environment as well.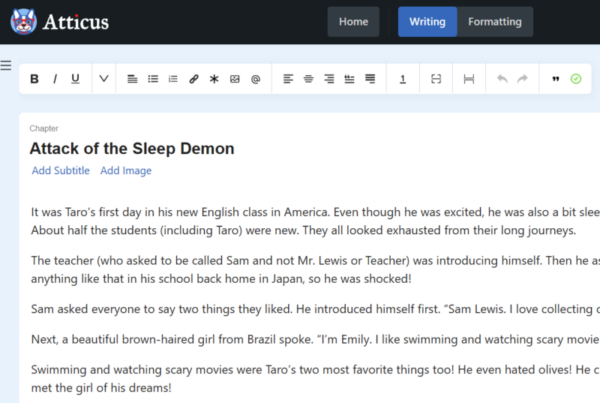 When you open it up, you'll see a lot of the same formatting options you see in Word: bold, italic, underline, lists, links, alignment, inserting images, and even footnotes. There are places to add page and section breaks which affects layout. You can add a placeholder for an ornamental break and then choose your ornament later while formatting.
Atticus also has a few tools to build motivation and accountability.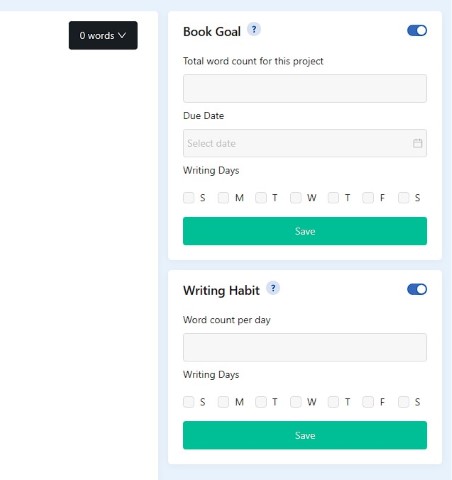 Under Book Goals, you can set your writing goal, a due date, and select your dedicated writing days. Atticus will automatically calculate the daily word count you need to meet those goals. You can then enter your actual daily word count under Writing Habit. Atticus will keep track of which days you met or exceeded your goal. It'll also track your writing streaks and best days, which can be very motivating! There's also a timer so you can do Writing Sprints, if that's your thing.
Chapters and Front Matter, Oh My!
Beyond the word processing tools, it's easy to break your work into chapters. The same tool also lets you create nice looking front matter and back matter. You can easily add a copyright page, a preface or introduction, a dedication and more. You can also add useful material to the back from a glossary to a bibliography to an about the author page.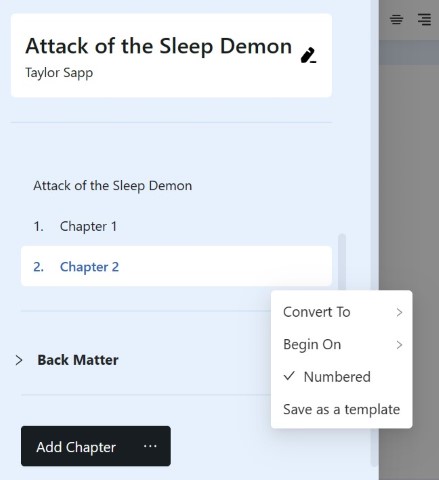 Note that most of these pages just create a blank page with the appropriate title. There are no templates for anything except the copyright page. So you'll still have to format the text on the pages the way you want them to look. From there, you can save your formatting as a template to use across projects, which is nice. So if you go to the effort of formatting a bibliography or creating a nice look for your dedication, you can save it for future books!
It's also nice that you can choose for each individual section whether to begin it on the left or right side, or just let it start where it falls. You can convert any section into another kind and even merge chapters together. So there's a lot of options here.
You can have numbered chapters or not. The numbers show up on the first page of the chapters where they can be formatted in different ways. They also show up in the table of contents.  And when you start a new chapter, you also have the option to add an image and/or a subtitle.
Formatting and Exporting Made Easy
Once you've written your book, you can switch over to the formatting controls, which give you a lot of control without making things too complicated. A professional book designer would want more tools, but a beginner will not be overwhelmed and overall I wasn't disappointed.
When you click on the Formatting button at the top of the page, you'll be presented with a lot of settings and you can dive as deep into these as you like.
The first thing you'll see is the themes panel. You can choose a theme that determines fonts and how the chapter openings and other sections are formatted. There are a lot of nice-looking options. A lot of them are generic enough to work with any book. A few are genre-specific, which is a lot of fun. I used Aether with my sci-fi readers and I regret nothing. If you're a beginner, you could select a theme and be done.
However, if you dive deeper, you'll see options to customize the themes. You can decide what information shows up on the chapter openers including those numbers and subtitles we discussed earlier.
Next, there are some options to format text paragraphs. Note that these apply across the board. So if you add drop caps for chapter openings, these will also appear on other front and back matter pages. I learned this the hard way when working on a book with a glossary.
I really like playing with the book ornament tool. I love a good book ornament to break up sections of a chapter, personally! You'll remember I said you can insert ornamental breaks while writing?
From there, you can get into some settings that only apply to print books such as trim size (how big the book is). I appreciate that they show which book sizes are allowed by KDP and IngramSpark. You can also control the inner and outer margins, but not the top or bottom margins. Not a big deal for most people, but not ideal.
I like how you can also customize the running heads, the text at the top of the page that has the title and chapter names on it. You can also pick where the page numbers go. One thing to note is that you cannot customize the text for the headers. I had a book with a long title. When I previewed a layout with the title on every left-handed page, the title got cut off in the middle of a word. I ended up having to use no running headers, which was suboptimal.
I really like that there's a preview panel on the right so you can see the impact of your changes. You can set the preview to show the ebook or print book so make sure you're looking at the right thing.
And under the preview, you'll see the buttons to export your book to PDF for print or EPUB for ebook. From there, you can go on to KDP or another site and upload your file.
Would I Recommend Atticus?
Atticus is definitely a promising book design tool for self-publishing! At $147, it's much cheaper than Adobe InDesign. Affinity Publisher is cheaper, but Publisher almost as difficult to use as InDesign, so it's not ideal for beginners. Atticus does a nice job of giving a lot of options and tools without being overwhelmed. You can pick up Atticus in a few days, and there's excellent customer service as well as extensive manual.
The nearest competitor I'm aware of is Vellum which is Mac only and costs $249 for the ebook/print book option. There are a few websites out there that will format your ebook for free, and also allow you to export a PDF for distribution on KDP or IngramSpark. Sites like Draft2Digital are great for ebooks because ebooks have limited formatting anyway. However, these sites don't provide the plethora of options that Atticus does.
Most of all, Atticus may also be the only tool out there that aspires to let you complete the whole process of creating a book in it from writing to formatting to exporting. It's excellent value for the money as a formatting program. If you don't have access to Word or Google Docs, then the value of Atticus goes up!
That being said, there are a few drawbacks. If you're a professional book designer, you'll find Atticus limited. But then, if you're a professional book designer, you're probably using InDesign anyway.
And while it makes the book formatting process much easier for beginners, I wish it had more templates for some front matter and end matter pages. I'd love to see a dedication page, a references page, and a preface and intro page for starters.
I also wish the themes included custom options for front matter and back matter. That way, you could add drop caps or wide paragraph spacing to chapters in the body of the book, without it spilling over to the copyright page, for example.
However, overall I think it's a great tool. It's not a substitute for a professional book designer, but I highly recommend it for anyone looking to get started self-publishing with a minimum of pain, expertise, or a huge budget.
Have you ever used Atticus? What did you think? What would you like to learn about the program?