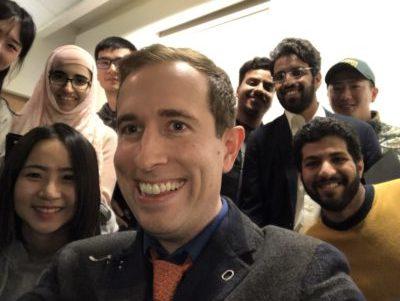 When I asked our latest author, Taylor Sapp, to collect some review quotes and blurbs about his new book, he did something I'd never thought of! Sure, he asked his colleagues and some big names in ELT for quotations. But he also asked students what they think.
And here's what they said (only lightly edited):
"These creative, intriguing short stories that made me think and wonder what if? Absolutely amusing miscellaneous topics that I enjoyed"

"I think it's useful because we can train a skill that we guess the stories even if we have a lot of vocabulary that we don't know."

"What make it interesting is that we created the end of the stories by ourselves"

"I think it can give some thinking. I think these stories are easy to understand and it is good for students because if it looks difficult, students think that they don't want to do it before to read."

"[These stories] improved my reading speed and are useful to extend reading skills."

"We can learn new words and develop creativity."

"Very interesting and easy to understand."

"The book was really fun! All the English textbooks I've used had rather boring stories from random news or plain stories English teachers came up with but this is so unique. Topics are so diverse that any students could find topics she/he would be interested in. Students will get to learn so many useful vocabularies (including the words we wouldn't learn in usual text books), practice thinking and writing in English and have discussions and create stories in English! I also liked the questions in the book. You always asked us interesting questions that make us want to talk. . . . I think your book teaches that to students with your creative stories about various topics. I just enjoyed the book as a continuous English learner! . . . Thank you so much for sharing such thought-provoking stories and a great English learning material."
I love that the students talk about how the book is fun, but also helps them learn vocabulary, improve their reading skills, practice discussion skills, and try creative writing as well. And while some educators look down on the idea of fun as an important component of learning, but I've found that when students enjoy an activity, they are more engaged and more likely to work hard on it.
So check out Stories Without End if you want your students to be raving about you like this!