We know we aren't the first and we probably won't be the last people you hear from to talk about our resources for distance learning (or that work well teaching online). But we assume if you're reading this blog, or getting this email that means you like what we do. And we certainly like what we do and think they're pretty useful.
Now when I say resources for distance learning, I mean a few different things. First, it could mean resources that are well-suited for online learning platforms like Zoom or Google Classrooms. Some of our resources are on PowerPoint or Google Slides, or single PDF pages so you can share them with your class easily.
Other resources are good for distance learning because students can do them independently. Then they can share their results with you via email or through your learning platform.
Also note that a lot of our books are available as ebooks. So you can have your students buy them, or get them instantly-no waiting to prep your lessons!
Now, we'll be updating this list as we work to make more and more of our resources distance learning-friendly. We'd also love to hear from you if you're using any of our Teacher Resource Books and adapting the activities for online use.
Always Look on the Bright Side of Life
If you're looking for simple and flexible prompts that focus on fun memories, kindness, and setting and achieving goals, then 60 Positive Activities for Kids is the book for you.
Each slide features a prompt that students can respond to in writing, in conversation, or by drawing. Or let students start with a drawing, add labels, share with a partner, and then start constructing sentences, paragraphs and longer writings.
Best of all and much-needed these days, each prompt focuses on the positive side of life. Students will be sharing a joke, talking about a happy memory, inventing their dream home, and discussing their achievements and hopes for the future.
So check out the PowerPoint or Google Slide editions on Teachers Pay Teachers. You can also get individual worksheets as PDFs.
Stuck at Home fun
For distance learning, the online versions of Teresa's Positive Activities books are best. But if you're looking for something to do with your own children at home (or to entertain youself), check out the paperback editions of 60 Positive Activities for Kids and 60 Positive Activities for Adults.
Take your mind off the stress of the current situation by designing the perfect meal or talking about your favorite activities for each season. My favorite is the "New Holiday" prompt where you plan a new holiday. You can even celebrate your holidays while you're home!
The hand-drawn illustrations are great for kids to color in and use as discussion prompts. Turn it into a competition by having everyone vote on the best answer. Or use it as a check-in to see where everyone's mood is. I've been using them with my son as transitions from home-schooling to free time and vice versa!
What if . . .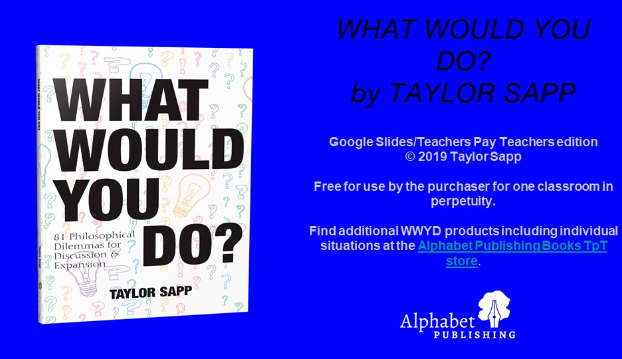 What Would You Do? is a great activity that requires no prep and that students can do independently. But they generate a ton of great discussion and/or writing. Give students a hypothetical situation and let them discuss what they would do. It's an easy way to bring up social and emotional issues, ethical dilemmas, and address every day conflicts.
We've formatted the book, What Would You Do? by Taylor Sapp as Google Slides and as PowerPoint slides to make them easy to share over Zoom or Google Classrooms, or whatever you're using for remote teaching!
Each dilemma features one slide that lays out the situation, giving some context to the problem. Then there's a concise statement of the issue. Finally there are some suggested solutions to help students start thinking of solutions.
The second slide gives some variations because we know our actions often depend on the context. This is a great time to talk about Social-Emotional Learning.
Story Prompts That Inspire
We still have print and ebooks for sale too, including Stories Without End. 24 open-ended stories that students can supply their own endings too. There are a lot of other creative projects related to each story, as well, including rewriting stories, adding characters, doing summaries, or even turning the story into a play or movie (or online animation, I guess).
For our remote teaching world, I'd suggest having students read a story on their own, then discuss the comprehension questions via email or your class page/wall/blog. Then they can start writing. This can be done independently or they can brainstorm in groups online!
Finally, have them share their stories on their class blog or classroom or through email. Everyone can share then leave a comment, reflection, or question for each classmate!
The whole book is available in ebook, paperback, or in PDF at Teachers Pay Teachers. We also have individual stories at TpT.
Writing Journals for Every Occasion
We also have a set of writing journals out in ebook form and soon coming out in print! You can find them wherever you buy your books or click the links below. Each one contains 52 prompts, one for each week of the year, making them perfect as a periodic journal or writing prompt!
Inspirations Weekly Writing Journal: 52 Writing Prompts for Short Stories is a collection of fictional prompts and guiding questions to help you come up with an amazing story idea. There's also a guide to the story arc. And tips for going through the writing process from idea to revision!
https://books2read.com/b/mBgwnR
Agree or Disagree: 52 Writing Prompts for Opinion Essays is a collection of 52 statements for academic essays, debates, or argument essays. There's also some sample outlines, including the rebuttal form, and tips for going through the whole writing process.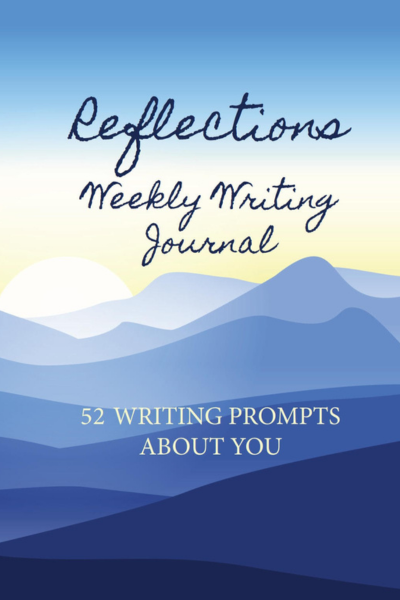 Reflections Weekly Writing Journal: 52 Writing Prompts About You includes one prompt per week about you. It's a nice way to get into journalling or do a little free-writing as a transition in your day!
Share a trip you want to take or a nice memory or something you really hate!
New Mindsets and Habits for a New Routine
Of course, with everything going on, it's easy to forget to take care of ourselves. Patrice Palmer's book on Teacher Self Care is more relevant than ever, and it even applies to parents or anyone feeling stressed out about our new lives!
The heart of Patrice's approach is to look at the mindsets that cause you to get stressed out. I know for many there's a lot of pressure to be creative or productive since we all supposedly have so much free time. But that mindset, "This is my best/only chance to do something great" is pretty stress-inducing. It's also not particularly conducive to actually being productive, meaning many of us are probably being LESS creative or productive now. And then beating ourselves up for it.
If we give up that mindset, ….. Now if we want to be creative maybe we can set some realistic expectations like, "I'm gong to use the 20 minutes I used to commute to work just doodling/freewriting" or "I'm going to do my son's schoolwork with him (I'm stuck watching him anyway) and try to learn something new"
Let us know if you use any of these resources, and above all be healthy and keep safe!
And do get in touch if there's anything we can do to help make teaching and learning easier in these times.