We are thrilled to announce that Only the Best Intentions by Alice Savage has been shortlisted for an English Language Award from the English-Speaking Union in the Resources for Secondary to Adult Learners category! The English Language Awards "celebrate and reward innovation and good practice in the field of English Language teaching." It is awarded to original, quality resources that help students with oracy skills. And given how much we've learned about how students acquire spoken language and the realization that communication is more than just grammar and vocab, it's wonderful that there is an English Language Award that recognizes materials that teach oral communication skills.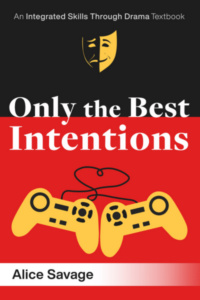 And that is really what the entire Integrated Skills Through Drama series is about: teaching communication skills through the medium of a play, an original short play written with language learners in mind. Drama is the ideal tool to teach speaking skills that go beyond literal, direct meaning (and so much of communication does so). Students are, of course, use pragmatics skills in their native languages, but when learning English, they get too caught up on remembering on grammar and vocabulary to apply those strategies. Or they may not be aware of the cultural differences between their culture and American or the UK, and how those differences play out in communication.
Only the Best Intentions, and the entire Integrated Skills Through Drama series, supports their learning through explicit lessons and also by allowing students to practice language in a space where it is safe to explore, experiment, and risk mistakes. A script gives the words to the actor, so the student doesn't have to think of the right thing to say. They can focus on fluency, rather than worrying about making a grammar mistake or saying the wrong word.
Another great thing about a play or scripted drama is that students can take on a character. They can distance themselves from the character that they play and say things they might never say in real life, practice new expressions with less fear of failure, and give themselves permission to be more "dramatic" in how they speak! It's also a tremendous feeling of accomplishment to produce and perform a play, one that leaves students with a good feeling about their English language speaking ability.
So check out all the shortlisted entries for the English Language Awards. They are all great resources and I'm pleased to see some other indie materials in there and fingers crossed for November 20th!